JUNE ISSUE
RIP : TERESA BERGANZA died at age 89 on 13th May in Madrid.
Click here to read about her very open autobiography
See below for the late Robert Tuggle's take on Muzio illustrated with many rare photos from the Charles Mintzer/Rudi van den Bulck collection

NEW!!! UMBERTO GIORDANO : at long last a new biography of the great composer from Foggia.
Click here to read an in-depth review
(the first biography published in 1949)
NEW !!! HERBERT JANSSEN, portrait of a mastersinger. A six CD release by Marston records.
Click here to read all about it and click here to order the CD
The present collection includes all his surviving pre-war studio recordings of opera and operetta (except for the 1930 Columbia Tannhäuser); all of Janssen's surviving 78 rpm Lieder recordings, including several previously unpublished items; and rare broadcast material that appears here together for the first time.
The set includes liner notes by Iain Miller and Michael Aspinall, as well as a large selection of rare photos. As a portrait of one of the greatest baritones on records, this six-CD set of Herbert Janssen is the most complete yet to appear."
Richard Hageman (1881-1966) was celebrated during his lifetime as a conductor, pianist, vocal coach, and composer. His art songs put him solidly in the vanguard of mid-century composers and he was routinely referred to in the same context as Aaron Copland, Virgil Thomson, William Grant Still, and Erich Wolfgang Korngold.
His opera Caponsacchi was the first American opera to premiere in Freiburg-im-Breisgau and Vienna. A conductor at the Metropolitan Opera, Hageman knew the great singers of the age, conducting Enrico Caruso and Geraldine Farrar, and accompanying Nellie Melba and Emmy Destinn. He wrote songs for John McCormack and Lotte Lehmann. By the late 1930s Hageman was composing in Hollywood, scoring westerns for John Ford and earning six Academy Award nominations. In Hollywood, he had drinks with John Wayne, rubbed shoulders with Jeanette MacDonald and Nelson Eddy, and shared the screen with Mario Lanza, Louis Armstrong and Elizabeth Taylor.
Richard Hageman: From Holland to Hollywood is the first critical biography to reconstruct Hageman's colorful life while recreating the cultural milieu in which he flourished: opera in America during the first half of the twentieth century and film scoring in Hollywood in the heyday of the studio system. Here Hageman's most important works are analyzed in depth for the first time, from his famous art song, "Do Not Go, My Love" and his opera Caponsacchi, to his film scores such as She Wore a Yellow Ribbon and 3 Godfathers. This biography offers a compelling read for opera lovers, film fans, and American history enthusiasts alike.
INTERVIEW WITH THE LEGENDARY BEL CANTO TENOR CHRIS MERRITT
MUST-HAVE RELEASES BY WARD MARSTON, click here to order them
Gary Hickling, the world's greatest expert on Lotte Lehmann judging from his website, made available his two webinar programs he made for the London Wagner society. Click here for his fantastic and unique website on the great German singer
Click here to watch his webinar on "LEHMANN SINGS WAGNER" + Click here to watch his webinar on " LEHMANN TEACHES WAGNER"
Mr HICKLING has also completed nine (!!) volumes of ibooks entitled LOTTE LEHMANN & HER LEGACY, click here to read more all about them
HOLIDAY GIFT SUGGESTIONS!!!!!!!
NEW!!!! The first and definitive (!!) book on Spanish soprano ELVIRA DE HIDALGO (1891-1980) has just been published. Click here for a review
NEW !!!! A biography of BENIAMINO GIGLI : The Master tenor by Colin Bain published by Barry R. Ashpole
Our reviewer Jan Neckers uses praise such as "splendid", "strong", "illuminating", "exceptionally good", a "must". Click here for a full-length review and how to order the book.
NEW !!! MARCO STECCHI BARITONE by An Roos Stecchi. Click here for our review
During my high school years I spent many an evening or afternoon at the Ghent and Antwerp opera houses. The baritone I heard most at the Ghent Royal Opera was Marco Stecchi (b. 1928) who was one of the most celebrated artists at that house. His popularity was immense with the Ghent audience. His vast repertoire ranged from the belcanto composers to the verismo warhorses. His engaging stage presence, the technical ease with which he sang were very impressive whether as Rossini's Figaro (a role he also recorded), Rigoletto, Jack Rance or Barnaba. His life story has now been written. Click here for our review.
(as Rigoletto in Ghent)
New !!! AUGUSTO BROGI il "baritono tenore" di Sesto Fiorentino (1847-1917)
Click here for our review and how to order the book.
Click here for a youtube presentation (Italian only) on the recent book release !
NEW!!!! The first book on tenor Mario Binci has been published :
MARIO BINCI (1914- 2008) Una meteora nel firmamento della lirica

Biografia fotografica di un grande tenore fidardense by Beniamino Bugiolacchi
NEW !!!! KAREL BURIAN THE COMPLETE RECORDINGS 1906-1913 on Supraphon.
Click here for a modest but fine website on the tenor worth visiting!!!!!!
(Tannhauser and as Walter in Meistersinger)
Three decades since the release of the 12CD set of the complete Emmy Destinn recordings, Supraphon is now presenting a similarly precious landmark, made up of 3 CDs featuring Karel Burian (1870–1924), a celebrated Czech tenor, a Metropolitan Opera star, who also dazzled audiences in London, Paris, Zurich, Munich, Bayreuth, Dresden, Berlin, Prague, Vienna, Budapest and elsewhere. The album was released on 3CD's on 27 November 2020, the year marking the 150th anniversary of Burian's birth.
His champions included Gustav Mahler and Arturo Toscanini, who invited him to perform in their Met productions. When asked why he did not appear in German operas, Enrico Caruso answered: "I can sing something, whereas Burian can sing everything." Burian was feted as an exemplary interpreter of Wagner roles (Tristan, Parsifal, Siegfried, Stolzing), yet he also performed to great acclaim in Italian, French and Russian operas. He portrayed Smetana's Jeník and Dalibor in Czech and German alike.
As an artist, Karel Burian enjoyed global renown, as a person, he lived a turbulent life, plagued by ill-fated love and spite. Seventy-two Burian gramophone recordings of arias and songs dating from between 1906 and 1913 have survived. The present set has been compiled thanks to the generous support provided by institutions and private collectors from all over the world, who lent Supraphon the original shellac records. For the very first time, the listener has the unique opportunity to savour all the recordings made at the beginning of the gramophone era by one of the greatest opera singers of his time.
The release features arias from the operas Der Freischütz, La muette de Portici, Fra Diavolo, Tannhäuser, Lohengrin, Die Walküre, Götterdämmerung, Tristan und Isolde, Die Meistersinger von Nürnberg, La forza del destino, Dalibor, Der Evangelimann, Eugene Onegin, Dimitrij, Werther, I Pagliacci, La boheme, Psohlavci (The Dogheads). Songs by Jindřich, Malát, Nedbal, Neumann, Novotný, Picka, Strauss, Tregler, Vymětal, and folk songs. The last item in the song category is Gus Edwards's (real name Gustave Schmelowsky) 'My cousin Caruso' which Burian recorded in Czech in 1910.
(Three tenors heading for American : Bonci - Slezak and Burian)
THE DAYS TEHRAN HAD OPERA, a tribute to EVLIN BAGHCHEBAN, compiled by Kaveh Bagcheban.
(Evlin Bagcheban)
Click here to order the book (+ CD) or order directly with the publisher
Operanostalgia had a few articles dealing with operatic tradition in Persia all these thanks to our contributor Liliana Osses Adams. In fact these articles are still one of the very few available on the subject except for the two books written by the late Lotfi Mansouri.
But things are changing and just recently the Persian-Dutch Network published this wonderful tribute to one of the main singers of the Tehran opera house : Evlin Baghcheban.
The Iranian Islamic revolution and loss –read destruction- of many documents and recordings of Roudaki Hall have made it very difficult to do research on the history of opera in Iran. This was one of the motivations of Kaveh Baghchehban, the son of Evelyn Baghchehban, to publish a collection of documents and pictures of his mother's activities along with a CD on the tenth anniversary of her death. "Evelyn Baghcheban is mentioned as one of the most important members of the Tehran Opera, but her recordings of her performances in this organization were not made available to the public. All these years, we have kept the reel to reel tapes in the family archive for perhaps some time," he says. "It is a pleasure to publish them. It was a pleasure to be able to make them available to the public for the tenth anniversary of my mother's death with the support of the Toos Foundation ."
Kaveh Baghcheban titled the CD "The Days of Tehran Opera" and emphasizes: "These works are examples that we had by recording with ordinary microphones from that time, and not with professional facilities. "An important part of the Roudaki Hall archive are these precious relics from the time when an opera company was active in Iran."
Evelyn Salem Örge was born in Turkey to a Lebanese Assyrian father and a French mother. She was a singing and piano student at the Ankara State Conservatory. Her singing teacher is not mentioned in the booklet though it could well have been Apollo Granforte who was a teacher there.
At the conservatory she met Samin Baghcheban, an Iranian composer, who also studied at the same conservatory. Their acquaintance led to marriage and both of them moved to Iran in 1950 to continue their work and life .
After the Islamic Revolution, they still spent a few years in Tehran, but in 1984, due to restrictions, they emigrated to Turkey and lived in Istanbul for the rest of their lives.
The 54 pages book contains a brief summary of her career and numerous rare photos and documents of Bagcheban's career as a mezzo soprano along with a CD of her live performances at the Tehran Opera House. These include excerpts from Verdi's Il Trovatore, Mascagni's Cavalleria Rusticana and Bizet's Carmen. The tenor in the recordings is the Italian Albino Toffoli and the baritone the Iranian Hossein Sarshar.
At 20 dollars, a real bargain to discover three wonderful artists for the first time ever on CD.
The youtube clip below will give you additional information on the book and samples of Bagcheban's rich mezzo soprano voice of considerable power and extended range also displaying a fine dramatic artist.
Click here to listen to her in "Dance at the Court of Samangan King" an Iranian composition by Hossein Nassehi.
NEW !!! TRE VOCI CATALANE : Maria BARRIENTOS, Graziella PARETO and Mercedes CAPSIR by Maurizio TIBERI
Click here to order the book + click here to read our comments about this opus magnum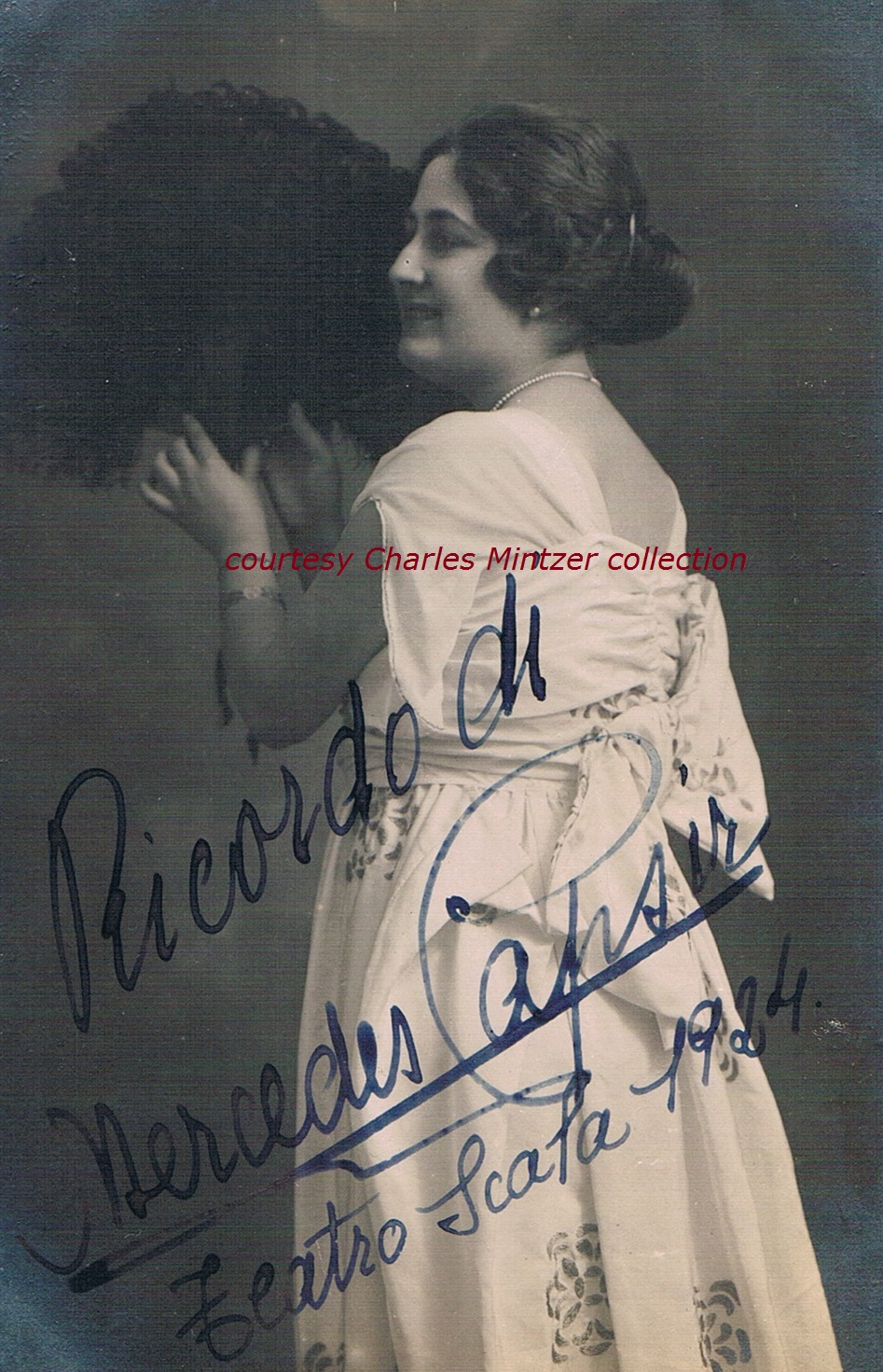 WONDERFUL NEW CD RELEASE FROM BELGIUM :
NEW : LIVINE MERTENS, mezzo soprano in arias and melodies
The CD label Musique en Wallonie's historic singers collection is devoted to reissuing historic recordings linked to particular Belgian performers. This time the focus is on the mezzo-soprano Livine Mertens (Antwerp 1898 - Brussels 1968). 1923 saw her first appearance on the stage on which her whole career was to take place (until 1945): De Munt/La Monnaie opera house. Her first appearance as Carmen on 1 August 1929 marked a red-letter day: her vocal and physical presence made her the uncontested mistress of this role, as crucial for her career as for her life; a Carmen of real stature, of an irresistible realism, a dramatic intensity such as we rarely encounter. The quality of her voice is here magnificently restored in a typical operatic repertoire from the early 20th century Bizet, Gounod, Massenet, Ravel, Thomas and others, in recordings dating from 1930-32.Meticulous remastering work and the restoration of the correct pitches (the speed of 78 rpm was far from consistent) make it hard to believe that all this dates from almost a century ago. The booklet in four languages is lavishly presented and generously illustrated with rare documents.
Click here to listen to her to an extremely rare recording : the 'berceuse' from August De Boeck's opera "La route d'Emeraude" !!!!!
NEW !!! ISIDORO FAGOAGA, (the forgotten tenor) el tenor olvidado by German Erena Minguez.
Shellac collectors and tenor adepts will be delighted with the first biography of one of the most important Wagnerian tenors of the interbellum in the Latin countries. Isidoro Fagoaga's (1895 – 1976) career was a relatively short one. The Basque tenor made his operatic debut (Samson) in 1919 and sang his last performance in March 1937 (Siegmund). Click here to read all about the book and how to order it !!!!!!!!!
NEW : book review
The Other Toscanini is the only book in English about the Argentine conductor and composer Héctor Panizza (1875-1967).
Known all over the world by his Italian name —Ettore— the maestro was in fact born in Buenos Aires and developed an astonishing international career, becoming music director of, successively, Covent Garden, la Scala (where he conducted alongside Arturo Toscanini), Teatro Colón, and the New York Metropolitan Opera.
At the Met between 1934 and 1942, he was in charge of the Italian repertoire and started the first radio broadcasts, whose recordings are his most well-known. He conducted widely in Europe and the Americas and devoted part of his energies to composing, recording, and organizing musical institutions. Now virtually forgotten, Panizza's name is being revived in this definitive biography, which describes both his life and his legacy, strongly associated with that of the great Arturo Toscanini.
The book also describes Panizza's important accomplishments as a composer. In his native Argentina, he is known for the patriotic "Canción de la Bandera," based on a text by Luigi Illica, Puccini's librettist. But Panizza also wrote operas, orchestral works, chamber music, and songs, widely performed in their day and still worthy of frequent revivals.
NEW : book review
Austria, a country of music, is famous for world-class composers and conductors. But of course there was and is an impressive squad of great singers. This book takes on the Austrian tenors of the post-war period, who enchanted audiences in the second half of the 20th century with their "magical tones".
It would like to guide the reader through a theater evening in book form. In the prologue there is an introduction to the work, the overture is a preface by Heinz Zednik, followed by portraits and biographies of great Austrian tenors in three acts. In the two breaks in between there is variety and entertainment. Finally, an epilogue is supposed to commemorate many other outstanding artists who also received applause and acclaim.

The book was written by an opera friend for opera friends. So anecdotes are not neglected, especially since all the portrayed singing stars made contact with the artist himself or with the bereaved family. It is thanks to this fact that the book is rounded off with a large number of very personal, unpublished photos.
CLICK HERE TO READ OUR REVIEW and how to order the book !!!!!!
NEW !!! Another Marston records miracle : THE COMPLETE LOTTE SCHÖNE
Lotte Schöne is one of those singers whose personality shines through the shellac: joyful, expressive, and bubbly. She was loved by audiences in Vienna, Salzburg, Berlin, Paris, and London.
Lotte Schöne's records are highly prized, especially her acoustic discs. This set contains all of her known recordings for Vox, Odeon, and the Gramophone Company, including six unpublished Odeon sides made just before the company's conversion from the acoustic to the electric recording process, and four unpublished Gramophone Company sides of Hugo Wolf songs recorded in 1934.
The set concludes with a delightful group of non-commercial discs made for her family, and a substantial offering of German and French songs recorded late in her career for French and German Radio in 1948 and 1950.

This is the first time that Lotte Schöne's complete extant recordings can be heard in one compilation.
The booklet includes rare photos, an evaluation of Schöne's recordings by Michael Aspinall, and a personal essay by André Tubeuf, written especially for this Marston Records release.
NEW !!! Book review PIRATES OF THE HIGH C'S aka opera bootlegging in the 20th century by Nicholas LIMANSKY
Practiced internationally between 1960 and 2000, opera piracy (the illegal practice of recording live operatic performances in the opera house) was rampant. Now Nicholas Limansky has written its history. Click here for our review.
Click here to order the book from the publisher !!!!!!!
Click here to order the book from amazon
In her autobiography she looks back at a rich life, tells of great artists she met, the splendor and misery of the singing profession and, above all, the happiness of music.
At the age of 21 Brigitte Fassbaender was engaged to the Munich State Opera. From that mment she went to the most important stages in the world. It is a path that is shaped by artistic adventures as well as wonderful experiences. In her clever, deeply human book, she speaks of the operas and songs that were close to her heart, the ethos of the singer and the moments of greatest musical fulfillment. She tells of conductors and singers, pianists and directors that she admired: from Carlos Kleiber to Claudio Abbado, from Martha Mödl to Dietrich Fischer-Dieskau, Domingo (yep!!) and many more. She also frankly writes on difficult topics, such as the agony of the menopause for a singer, about male power and abuse of power, about her own failures. When she gave up singing, she opened up a second life as a singing teacher, director and director. Her book is the wonderful story of someone who set out to learn to be amazed.
New releases worth investigating !!!
****Having just issued his Chaliapine box

(see below)

Marston Records performs another miracle issuing the complete electrical recordings of JOHN MCCORMACK, be quick to order the set as apparently it is selling like hot cakes !!!!!!!!
Click here for all information and how to order it
See below for Ward Marston youtube clip expanding on this release
This deluxe 16-CD set contains John McCormack's complete electrically recorded output of 243 sides, 1925-1942, plus all extant alternative takes as well as 2 CDs of his surviving radio broadcasts. Each disc was newly transferred by Ward Marston from original sources. The set contains a comprehensive booklet of essays and notes on the recordings by the leading authorities on John McCormack: Gordon Ledbetter, author of two books on the tenor, and Michael Aspinall, the world's acknowledged expert on the art of bel canto, of which McCormack was one of the greatest exponents. The final two CDs in the set comprises new restorations of all 57 of McCormack's earliest recordings, made on cylinder and disc in 1904, following his victory in the Dublin Feis Ceoil national singing competition in 1903. These fascinating, if primitive, vocal documents allow us to hear the artist before his sojourn in Italy in 1905, when he trained under Maestro Sabatini.
Click here for Conrad L. Osborne's extended in-depth review of the set !!!!! A must read
Click here for more info and to order the set
This very handsome 13cd set with a lavishly illustrated, hard cover, 324 page book with tons of great photos and translations of all the Russian-language arias and songs is the perfect gift this season for the opera, song-lover or the person who collects complete anthologies. Of all the great Marston releases to date, this has to be Ward's masterpiece. The project shows so much love and respect for the subject, and seems the "last word" on this great artist,
Click here to watch the videos of the conference
Remarkable and heart-warming : a museum devoted to the tenor AMEDEO BASSI has been opened in Montespertoli. Click here for more information
Exclusive : a few photos from the Amedeo Bassi museum (courtesy and copyright Museo Amedeo Bassi/Francesca Di Natali)