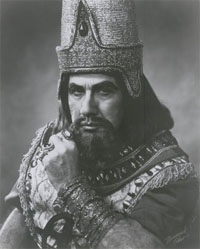 Rediscovering Baritones: Adib Fazah
While this issue of operanostalgia is mainly a baritone's issue I thought it was time to discover another baritone and one who was more than just a trooper.
Opera isn't put on with Taddei's and Gobbi's only. There are also the numerous others who didn't make any official recordings or DVD's but who were equally important to keep the art of opera alive.
One of them was the distinguished Lebanese-American baritone Adib Fazah.

Fazah was born in Cleveland, Ohio and began his musical training at age eight as a student of the violin, an instrument he played for over twenty years. After service with the US Navy he continued his musical and vocal studies at the Cleveland institute of Music, later on graduating with honours at the New England Conservatory of music.
He is especially remembered as a leading baritone of the New York City Opera where he sang from 1973 through 1990.
Other appearances included opera companies all over the US but also abroad. He was heard in Dusseldorf, Nice, Montreal, Hong Kong, Bogota and Puerto Rico amongst others.
As the Founder and director of Artists International he organized, produced, directed and sang in more than 100 concerts in Southeast Asia.
His operatic repertoire was vast and included the main baritone roles in Otello, Rigoletto, Tosca, don Carlo, Aida, Trovatore, Ballo, Nabucco, Chenier, Cavalleria, Puritani, Forza, Gioconda, Tabarro, Gianni Schicci, Pagliacci, Traviata, Lucia, Wozzeck, Puritani, Roberto Devereux, Macbeth, Favorita, Boheme, Attila, Ernani, Of mice and Men, Faust, Pirata, Pecheurs to name just a few.
Adib Fazah's versatility as a singer was apparent not only on the operatic stage but also on the concert platform as a soloists with orchestra and a recitalist.
He sang Bach, both Bloch's and Milhaud's Sacred Service, Haendel Haydn, Mozart, Orff, Schubert etc.
As said no commercial recordings are available though luckily several live performances do circulate on CD and DVD
Mr Fazah now lives in Woodside New York where he teaches.
Rudi van den Bulck, Opera Nostalgia