Ferruccio TAGLIAVINI : Books and CD's
"Too much sugar" that was the verdict of my opera loving uncle and mentor when I mentioned the name Tagliavini to him. "Gigli's successor" was the verdict of someone else admittedly less knowledgeable. Both were wrong and right of course but they were in one way or another also responsible for the fact that I came rather late to appreciating the tenor's vocal talents. The moment of truth was found in a record I bought while on holiday in Milan in the early 80-ies. The LP featured film songs by various Italian tenors and Tagliavini's 'Malinconia d'amore' was the trigger that did it. Since then I started to collect most of his recordings.
And oh yes, there was sugar indeed and a good portion of Gigli imitation as well but I also succumbed to the 'easy and so adequate phrasing' Virgil Thomson wrote about when Tagliavini made his Met debut in Boheme. I also came to appreciate the finely spun tone, the charm, the enunciation and his unique honeyed timbre but on occasion we also  hear the straining for volume which will eventually lead to the wooden tone of the fifties and sixties. As far as I know two books were written about him and as so often with books published in Italy quasi impossible to find. The first was Umberto Bonafini's 'L'uomo, la voce'(117 pp) a biography published in 1993 by Magis books. No in-depth analysis but lots of interesting photographs, a good discography and a decent –though not complete- chronology.
Eleven years later Franco Costi published his 'Ferruccio Tagliavini' book (229 pp), it's the better book of the two. Again loads of rare and beautiful photographs, an up-to-date discography, a complete(!) chronology, an index and….a good story on top of it, a story which doesn't shy away to give the complete picture of who Tagliavini really was.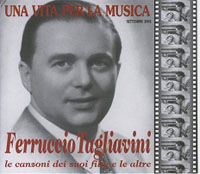 Most of Tagliavini's recorded output has been re-released on CD and it's hard to pick favourites. A must-have CD is Tima club's 'una vita per la musica'. A wonderful disc featuring all his film songs for Cetra but also some rare V-discs. And as always with Tima/Clama an interesting booklet is included. But in 2003 Cetra too released a three CD box with his recorded output (different from Tima) for the firm including two informative booklets (in English as well). You needn't go further his very best is brought together on these four cd's going from the wonderful "Cherry duet" with both Olivero (1939!) and Tassinari (1942 under the composer), the aria from 'I Lombardi' -arguebly the best operatic record he made-, the equally splendid aria from 'I quarto rusteghi', the delightful arie anticche and so much more. Naxos released  a live concert from San Francisco which features excerpts from Orefice's 'Chopin' and BGM released in 2004 several of his RCA Italiana Italian song LP's on a  two CD budget set. (See the reviews section for more info on this release) Cetra also released his Martini Rossi concert from San Remo in 1953 where his singing of E lucevan le stelle and the aria from Le Cid display that this repertoire was too heavy for him.
Tagliavini didn't sing too much Mozart in his career yet a recording of the Mozart Requiem under the legendary De Sabata is available and the Italian cast amply shows how much the composer gains when sung by real Italian voices. Tagliavini made several movies but none as far has re-appeared on the DVD medium though his Firestone appearances have been released on video and dvd.
Rudi van den Bulck, Opera Nostalgia