INA BOURSKAYA (1886/1888 - 1954) a singer remembered by Charles Mintzer
 (all photos courtesy Charles Mintzer)
Every once in a while a singer of the past catches one's interest and seems worth the effort researching her biography and career. One such singer was the Russian mezzo-soprano Ina Bourskaya. She was born in Zhitomir, Ukraine to upper-class parents of Polish parentage. Her father was Joseph Korzeniowski, her mother Teophila Demlicka. In June 1908 she married Witold Bourski who was a professor of oriental languages and philosophy. In 1913 Bourskaya made her debut as Stéphano in Gounod's Romeo et Juliette. Later she "married" the tenor Petr Skuba (1). It is not clear whether she officially married him or merely had a significant relationship with him. In her personal papers, sent to me by Claudia Boynton's sister, there was an envelope with eight photos of Skuba with no annotations, other than Zimmin Opera. She kept no other photos of colleagues and Fuerst believed she was married to Skuba, and as he travelled with both of them from 1916 on, he should know.
(unidentified, Dimitri?)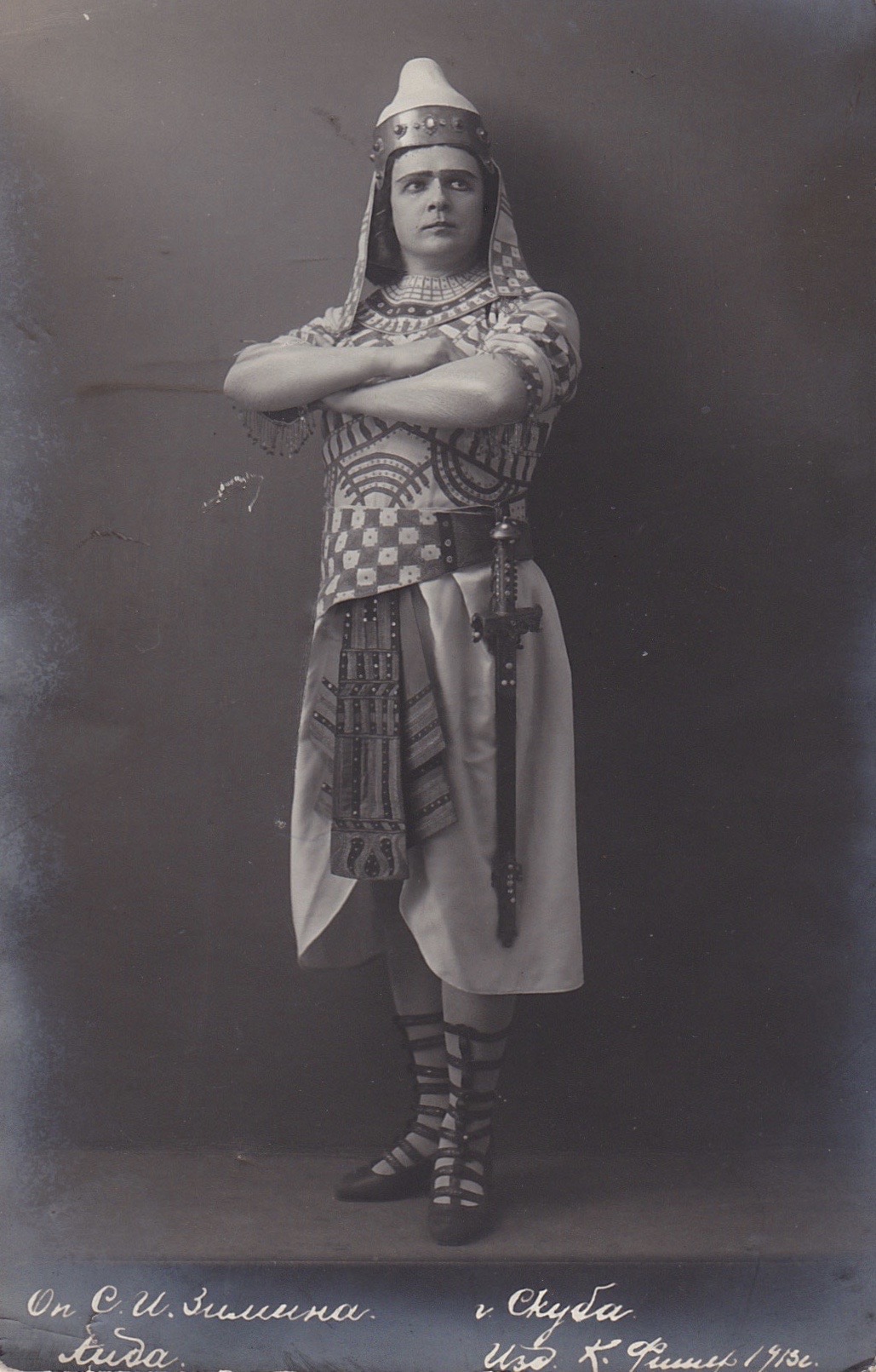 (Radames)
(Volkula in Tchaikovsky's "The Glass Slippers")

Bourskaya did not come on my radar all of a sudden. Many years ago I made the acquaintance, through my opera autograph collecting, of a Ms. Claudia Boynton, at that time a retiree living in Leesville, South Carolina, but originally from Chicago. Claudia was many things operatically: an avid operagoer, friend of several singers including Geraldine Farrar (she was one of the original Gerry-flappers), a scout for Fortune Gallo's visiting San Carlo Opera, and an autograph collector. When Claudia died, over thirty years ago, her sister Alice sent me a large box of her operatic memorabilia thinking that I might be interested in these items. Claudia had a trove of letters, photos, and odds and ends that belonged to Ina Bourskaya, a mezzo soprano who had become a close friend of hers.
Ina left the stage in the late thirties; she returned to Europe (Warsaw, specifically where her sister Pauline Medynska lived), but with the unsettling conditions and the war clouds hovering over Europe she returned to the United States, already had become a naturalized US citizen. She had taken out her first citizenship papers as early as 1923. She obtained full US citizenship on 12 November 1928 and worked as a medical receptionist in Chicago under the name Ina Bours. There is no better proof of her personal data than her passport pages pictured, yet while the passport states the year of birth as 1888 her death certificate gives 1886.
It is not easy to reconstruct the earliest years of singers who came out of Czarist Russia unless they worked on the very highest level, but in Bourskaya's case this is partially eased in a letter sent to Claudia Boynton, after Ina's death, by the conductor Eugene Fuerst who was with Ina during the tumultuous early years of her career against the backdrop of the Bolshevik Revolution. And it segues nicely into the phenomena of touring Russian opera companies that were formed with emigré Russians operating in Europe, South America, the USA, and, interestingly enough, in Asia.
It is not well enough known that touring opera companies have a long tradition of playing in Asia, not only in wealthy Japan, and more recently in South Korea. The late Tom Kaufman wrote a treatise on the premieres of Verdi operas from all over the world, and in the nineteenth century Verdi's operas, even the less famous ones, had Asian performances, to be sure many in countries with large European populations.  As can be seen from Fuerst's letter (reproduced) they toured China, Japan, the Philippines, India and Java (Indonesia).
(with colleagues from the tour)
Read the full transcript of the letter below :
Portland, Oregon July 3, 1954
We received from Alice, a letter about Ina's passing away. Ina was the best friend we ever had, and this loss is hard on us. Alice asked me to give you data about Ina's days in opera, previous to her coming to the States. We met her first, in the year 1917, in the city of Ekaterinburg (now it has a different name) in the Ural Mountains. On account of the shortage of food in Central Russia the opera company which gathered there was a very good one. Ina was one of the leading mezzo-sopranos, Sophie (?) was one of the leading sopranos, and I was one of the conductors. That time we did not suspect that five years later fate would bring us to the United States. Since then Sophie and I were never separated from Ina until she left Metropolitan for Chicago. Before we met Ina, she was married to a Polish tenor, also a very good one, by the name Scuba. He died early from menengitis. Before this season with us she sang in Kiev and Odessa. In 1917 when we were together in Ekaterinburg, Bolshevik revolution took place and we worked under them for a while. Our company started on a tour, our first stay in a city called Tobolsk, the city to which the last Tzar was called before he was sent to Ekaterinburg where he was killed. 
One day there the Bolsheviks told us to get as much food as we can because they were leaving which they did the same night with all steamers and means of transportation with most food and supplies. For about ten days there was no government at all. Then a vanguard of White Russians came to the city, thus we were part of the the White front. We continued our travel all the time playing through the whole of Siberia, through constant fighting of Bolsheviks against Whites, one White general against other White general. We could not even understand who was who, what is what, and who is on who's side. With greatest difficulties, blown up bridges, destroyed tunnels, deadly dangers, to whom we could not pay any attention. It would take a whole book to describe this fantastic journey. In the city of Chota, near Manchurian border Ina got us a hotel where there was so much shooting, wild drinking, and suicide (White officers amused themselves.) It was the worst I have ever seen, before or after. We did succeed somehow of dragging Ina out of there. We continued to Vladivostok; there we received an invitation for a season in Japan. From there we went to China, Philippines, Java, and India, back to Japan  and from there to Seattle in the USA. Our manager S. Hurok did not come to meet us in Seattle, and the Japanese steamship company was prepared to take us back to Japan. By some very unusual circumstances George Hood, who was manager of Erlanger Theatres, decided to try and arrange a tour for us and let us play in Seattle. We started with Mme. Butterfly. I do not remember when you met Ina; was it when she was still with the Russian opera, or was it when she joined to Met. All the time she was very successful, besides Carmen she did a very fine Libyusha in Rimsky-Korsakov's Tzar's Bride, Marina in Boris, Lel in Snowmaiden, Countess in Tchaikovsky's Pique Dame, and many others. Besides, of being an excellent singer, she was always a real lady, always willing to help, and bringing other people to help in any way she could. She was, and always our dearest and closest friend. Many times we even lived together, in Oyster Bay, New York with her, her mother and Pauline. Our sincerest regards to you and Alice and our gratitude for what you did for her. 
Most sincerely,
Eugene Fuerst. 
P. S. Sophie sends you her best wishes, thanks you for what you did and sends her love.
Programme scans of performances in 1922 at the Chicago Olympic Theatre + review exc. from "The Music News"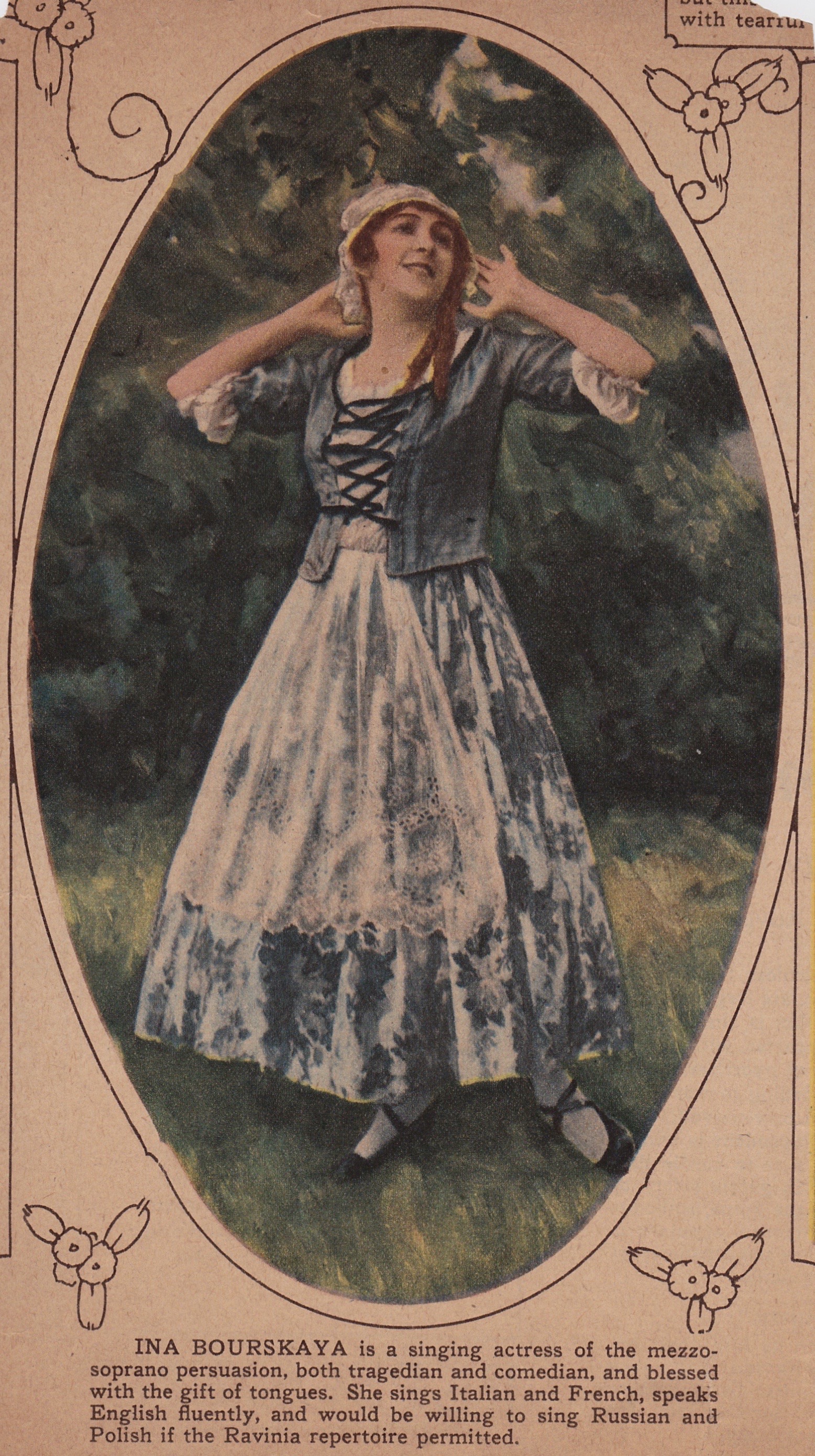 (Nancy in Martha)
Once Ina arrived in the United States she toured with that Russian opera company and her first US appearances were in Seattle under the sponsorship of S. Hurok; and as she was significantly more accomplished than most of her compatriots she secured a good engagement with the Chicago Civic Opera and made her Chicago debut as Amneris on the season's opening night, 13 November 1922, with Rosa Raisa, Charles Marshall and Cesare Formichi, also making his debut that evening. Three nights later she sang Lel in her first of five "Snow Maiden"'s ("Snegourochka" by Rimsky-Korsakoff) with Edith Mason, Cyrena Van Gordon, Irene Pavlovska, Marie Claessens, Angelo Minghetti and Georges Baklanoff, conducted by Richard Hageman, and latter two conducted by Ettore Panizza. "Snow Maiden" was something of a Chicago Opera novelty and was given with various casts over the years. She had a chance to show Chicago her Carmen (a role owned at that time by Mary Garden in Chicago) on 2 December with Florence Macbeth, Ricardo Martin and Baklanoff. Four nights later she was again cast as Amneris, this time with Claudia Muzio making her Chicago Opera debut. All together she sang seventeen times with the Chicago Civic Opera, with some quality smaller roles such as Maddalena in "Rigoletto" and Nancy in "Martha"; she was in casts that included Amelita Galli-Curci and Tito Schipa. I think it is significant that she was not asked to perform on the tour when it played Boston for two weeks after the Chicago season ended.
But, Ina was in fact engaged by the Metropolitan Opera in what would be a fifteen-year career singing in 423 performances. At the Met she debuted in "Carmen" and would present the gypsy another fourteen times, and she did some big leading roles a few times like Amneris, Marina, Hansel and Azucena, but the majority of her roles were secondary leads, never pure comprimario roles, but roles like Madelon in "Andrea Chenier," Lola in "Cavalleria Rusticana,:  Nicklausse in "Contes d'Hoffmann," Preziosilla in "La forza del Destino," Suzuki in "Madama Butterfly," Maddelena in "Rigoletto," and in the Met and German tradition one of the Valkyries (Rossweisse) in "Die Walkure." In other words, she was one of those valuable artists who came to work every day, either rehearsing during the day or singing at night and earning a weekly paycheck; not a curse for an artist who took her art and craft seriously.
Of her Carmen debut at the Metropolitan Opera, S. J. Henderson, the dean of music critics, especially on matters vocal and operatic, had interesting ideas about Bourskaya's Carmen:
"Ina Bourskaya Makes Debut in 'Carmen'
Has a Large and Brilliant Voice and Makes Herself Interesting.
John McCullough, the actor, was credited with the saying "'Hamlet' is the one part in which any good actor can make a hit if he'll let the metaphysics alone and attend to the stage business." Something quite similar might be said of "Carmen" were it not that the operagoing public has built the role up into an R. U. R. of practically unattainable type. Every Carmen is a good Carmen, but none is ideal. These rambling remarks might be applied to last evening's performance of Bizet's opera at the Metropolitan Opera House and the debut of Mme. Ina Bourskaya as the gypsy.
The new member of the company proved to be one of the good Carmens, but, of course, not ideal. She looked like an untrammeled gypsy and endeavored to sing like one. She displayed a remarkably large and brilliant voice, one rich in the darker metallic tones, well suited to the passionate outbursts of Carmen. She was extremely nervous in the early part of the opera and clipped phrases in her eager search after breath. She improved in this respect as the performance went on, but she did not show profound respect for the composer's rhythms. She sang much of the music "ad libitum." But there was an immense amount of physical force in her impersonation and she made herself interesting, which is the chief end of prima donnas."
Review of Pitts Sanborn in the Globe
"Ina Bourskaya, a Russian mezzo-soprano who last season appeared with success in various parts of the country with the travelling Russian opera company that visited New York (but minus Miss Bourskaya) in the spring and who this season has been praised in Chicago, where she has sung with the local Civic Opera Company, made her New York debut at the Metropolitan Opera House last evening in the name-part of "Carmen." Miss Bourskaya presented a personable Carmen of a properly gypsy type. This Carmen was frankly a woman of the streets and taverns, quite obvious in her methods of luring on her victims. She danced better than most Carmens, and her voice and her intonation alike improved when her first-act nervousness had worn off. Curiously, we expect from those cosmopolitan linguists, the Russians, rather better French than Miss Bourskaya displayed last night."
The following tabulation of Bourskaya's Met career tells the tale of her career there and of her place in the pecking order of Met mezzo-sopranos.
Fre

Entry

Die Ägyptische Helena: Aithra's Maid/Elf [Bourskaya, Ina]

Aida: Amneris [Bourskaya, Ina]

Andrea Chénier: Countess di Coigny [Bourskaya, Ina]

Andrea Chénier: Madelon [Bourskaya, Ina]

Der Barbier von Bagdad: Bostana [Bourskaya, Ina]

The Bartered Bride: Ludmila [Bourskaya, Ina]

Boris Godunov: Innkeeper [Bourskaya, Ina]

Boris Godunov: Marina [Bourskaya, Ina]

Boris Godunov: Nurse [Bourskaya, Ina]

Bourskaya, Ina: Photograph: Serving Woman in Elektra (Carlo Edwards)

Carmen: Carmen [Bourskaya, Ina]

Cavalleria Rusticana: Lola [Bourskaya, Ina]

Concert: [Bourskaya, Ina]

Les Contes d'Hoffmann: Nicklausse [Bourskaya, Ina]

Elektra: Serving Woman [Bourskaya, Ina]

The Fair at Sorochintzy: Khivria [Bourskaya, Ina]

Faust: Marthe [Bourskaya, Ina]

La Forza del Destino: Preziosilla [Bourskaya, Ina]

Fra Gherardo: Old Woman [Bourskaya, Ina]

Gala Performance: [Bourskaya, Ina]

Gianni Schicchi: Zita [Bourskaya, Ina]

I Gioielli della Madonna: Carmela [Bourskaya, Ina]

Hänsel und Gretel: Hänsel [Bourskaya, Ina]

Jenufa: Grandmother [Bourskaya, Ina]

Lakmé: Mrs. Bentson [Bourskaya, Ina]

Louise: Mother [Bourskaya, Ina]

Madama Butterfly: Suzuki [Bourskaya, Ina]

Martha: Nancy [Bourskaya, Ina]

Mefistofele: Marta [Bourskaya, Ina]

Pelléas et Mélisande: Geneviève [Bourskaya, Ina]

Peter Ibbetson: Mrs. Glyn [Bourskaya, Ina]

Rigoletto: Maddalena [Bourskaya, Ina]

Le Rossignol: Cook [Bourskaya, Ina]

Sadko: Lubava [Bourskaya, Ina]

Salome: Page [Bourskaya, Ina]

Snegurochka: Lel [Bourskaya, Ina]

La Sonnambula: Teresa [Bourskaya, Ina]

Il Trovatore: Azucena [Bourskaya, Ina]

Die Walküre: Rossweisse [Bourskaya, Ina]
As one can see from the above tabulation, Bourskaya's hold on the biggest roles was slight, but her non-star roles are not characters who have only a few lines, they are mostly cameo-type roles where good stage skills are as important as purely vocal skills.
Bourskaya had an interesting career of more scope at the summer Ravinia Festival in the Chicago suburb Highland Park. The Ravinia Festival had many components of the great European music festivals: symphony, ballet, drama, and the operatic component was especially strong, can even be considered world-class. I think it was Otto Khan who opined that if Ravinia had been situated in Europe it would rival the Salzburg festival. In its great days of the 1920s Lucrezia Bori, Elisabeth Rethberg, Giovanni Martinelli, Giuseppe Danise, for example performed for ten weeks every summer, each star averaging over twenty performances each season. Florence Easton, Rosa Raisa, Graziella Pareto, Yvonne Gall, Giacomo Lauri-Volpi, and Tito Schipa all had important seasons at Ravinia. Bourskaya made her Ravinia debut in 1922 as Carmen and sang in every season until the opera component of the festival shut down in 1931. She was almost the exclusive Carmen at Ravinia, giving it every season, if only once a season.  A list of her Ravinia roles includes: Anita in "La Navaraise," Amneris, Maddelena, Nancy, Azucena, Madelon, Anaide in "Zaza," Suzuki, Nicklausse, Mrs. Bentson in "Lakme," Dalila, Pamela in "Fra Diavalo," Ulrica, in "Madame Sans-Gene," Frederic in "Mignon," the Musician in "Manon Lescaust," Queen Carolina in "Anima Allegra," Grandmother in "La Vida Breve," Ludmilla in "Bartered Bride," and Mrs. Glyn in "Peter Ibbetson."
Bourskaya sang a short season with the Los Angeles Opera  in 1927 and was part of an interesting cast of "Aida: with Anne Roselle, Giovanni Martinelli, Pasquale Amato and Ezio Pinza, and she gave Los Angeles her Carmen with Martinelli and Desire Defrere.
From 1933-37 Bourskaya was a guest artist performing with Fortune Gallo's San Carlo Opera (2). The invaluable Cardell Bishop books about that interesting organization have many, but incomplete, details of this intrepid touring company. In her first season 1933-34 she was the featured Carmen in major cities such as Philadelphia, Cleveland, Chicago, Detroit, and Baltimore. She did not appear in New York with the San Carlo; perhaps her Met contract had something to do with that. In the 1934-35 season she also appeared in Toronto and Milwaukee. Bishop has no details on her last two seasons, but by that time Coe Glade had become the featured Carmen of the San Carlo. I did find that in addition to Carmen she did Azucena in "Il Trovatore" and Dalila.
Like many worthwhile artists of her time no recording company signed her for records. The only audio, and visual, we have of her is in a Vitaphone short movie of the Judgement Scene (misidentified as the Temple Scene on the title frame) from "Aida" with Giovanni Martinelli, which according to the IMDB was made in 1930. Of course the scene is abbreviated and not all of Amneris' music is included. The acting is of the period, and the gestures used would not satisfy today, and the lip-synching is not very good. Still, it is Bourskaya's only representation in any significant media form. She was in several early broadcasts from the Met in the early to mid 1930s, but most were in "Die Walkure"s where it would be difficult to hear her with the seven other Valkyrie sisters.
CLICK HERE TO LISTEN AND WATCH HER AS AMNERIS OPPOSITE GIOVANNI MARTINELLI
In all, Bourskaya enjoyed a worthwhile career, including some real high points. She died at Chicago's St. Luke's Hospital on June 25, 1954 of heart failure due to broncho-pneumonia.
Charles Mintzer, Brooklyn March 2017
NOTES
(1) Petr Alexandrovich Skuba (Born 1879; died January 2, 1917 Russian calendar)
*Sang with the Zimmin (private opera) Moscow—1909-1914.
*Lead tenor Kiev opera 1914-16; Odessa 1916-17
*Roles in Sadko, Mozart, Eugen Onegin, Pique Dame, Mazeppa, Faust, Carmen, Aida, Traviata, Madama Butterfly, Cavalleria Rusticana, Tannhauser.
*Sang with Battistini, Borisenko, Koshetz, Sekar-Rozhansky, Speransky, Shevalev, etc.
* Afak no recordings. (Information from Prozhanksy's encyclopedia of Pre-Revolutionary operatic artists
(2)